Key Cutting in Southampton
Keys Cut While You Wait.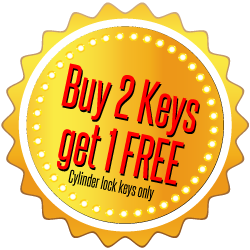 Here at Solent Locksmiths we can supply and cut a wide variety of keys to suit most types of locks, with keys cut while you wait in Hedge End and Park Gate, Southampton. We use the latest computerised key cutting technology, allowing us to cut keys to code number, pattern and program the latest microchip vehicle keys. Whether you've broken your car key, lost the spare key for a cabinet or locked yourself out of your house, our highly-skilled and efficient locksmiths offer a competitively-priced solution.
Keys are one of the most important security items you have. They are the access to your home, your car and your most prized possessions. Our team of expert locksmiths are security checked and professional at all times.
Select the tab below to find out more information on the particular set of keys you're looking for.
Car Keys

Save a trip to main dealer and always have a spare.

Solent Locksmiths can supply keys for most makes and model of car, van or motorbike, using state-of-the-art computerised key cutting technology, ensuring maximum security of your vehicle. So if you need a spare car key, have damaged them in a lock or the ignition, or damaged the transponder chip, we will be able to get a replacement or duplicate far cheaper than the cost of a main dealer.

Please note, for transponder keys, we need the original to produce a duplicate. If you have no original key, you will need to visit a main dealler.

Immobiliser Key Cutting

Our cutting technicians have the ability to program transponder keys, without the need for key number and immobilizer codes, meaning we can have you back on the road in minutes.

Transponder keys are electronic keys which have coded transponder chips embedded into the plastic body. The code is read when it is turned in the ignition. Early versions of transponder keys used a fixed code, or the same code each time. Newer transponder keys use a rolling code which changes every time.

Solent Locksmiths also stock a vast range of keys and can duplicate to code number as well as pattern. A mail order service is also available for keys cut to code.

Bike Keys

Replacement motorcycle keys for all models, like car keys can be provided by Solent Locksmiths. Our auto locksmiths use specialist diagnostics equipment to program motorcycle transponder keys. All keys are cut and programmed to your motorcycle. The motorcycle is actually programmed to the key rather than the key to the motorcycle.

Boat Keys

Solent Locksmiths can provide replacement or duplicate boat keys for all of your marine needs. Doors, portholes, storage, petrol caps. With two locksmith branches conveniently located between Southampton and Portsmouth on the south coast, our key cutting technicians and master locksmiths are used to call outs to boats situated along the coast and in the local marinas.

We have many key blanks in stock and can cut a spare for you while you wait.

Household Keys

Duplicating your house keys is a quick, easy and inexpensive service, that everyone should have completed in order to avoid the stress and frustration one faces when they find themselves locked out of their home.

Never leave spare keys under mats, plant pots and wheel arches outside. This is the first place that an opportunist burglar will look. You also dont know who may be watching you place them there. Getting a spare or duplicate set of keys and giving then to someone you trusat to keep for you, or leaving them in a secure locked place where you can get them should you need them is a much safer option.

At Solent Locksmiths, our fully trained professional and security locksmiths offer competitively priced key cutting, in addition to a fast-response, 24 hour emergency locksmith service throughout Southampton, Portsmouth and surrounding areas.

Specialist Keys

Solent Locksmiths are Master Locksmith Association approved. Using the latest machinery, key blanks and knowledge to create new keys or repair old ones for almost any lock. The equipment we use ensures that all keys cut, are duplicated to manufacturer's specifications, resulting in a perfect copy. There will never be any need to return to us because your keys dont work. Our competent cutting technicians are highly-skilled and experienced with excellent attention to detail, ensuring your keys work for the first time, every time.

As a Master Locksmith Association approved company, whether you require keys cut to fit your vehicle, house, filing cabinet, boat, garage, safe or windows. Yale or Chubb, our qualified team are regularly vetted and security inspected, meaning a high-standard of workmanship is maintained.
Key Cutting Hedge End.
Come see us and get your keys cut while you wait at our Hedge End branch in Southampton. Click key cutting southampton for directions.
Key Cutting Park Gate.
Come and see us at our Park Gate branch for key cutting while you wait. Click key cutting Park Gate for directions.